The Africa Human Capital Plan: Why Investing in Women & Girls Matters Now More Than Ever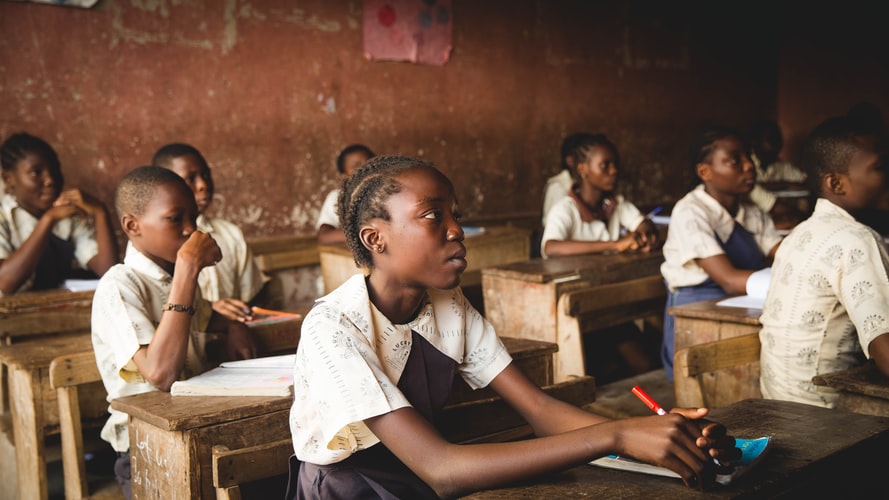 The COVID-19 pandemic has had notable effects on several sectors, namely the economic, health, social, and educational sectors. Within all these sectors though, women have been disproportionately affected. Several leaders working together in the field of women and girls' empowerment came together at the start of Women's History Month to have a virtual discussion on why it is important to invest in women and girls now more than ever.
It is estimated that 2.6 million African girls are at risk of not returning to school due to the pandemic. These girls are at risk of being married off against their will and are predisposed to unintended pregnancies as well as gender-based violence. If forced into these paths, these girls will never have the chance to realize their full potential and will not be able to contribute to economic growth and development of their communities in the same way they would be able to if they had stayed in school. They will become burdens to their communities and governments, and they will end up being exposed to poverty, continuing this vicious cycle. To ensure that another generation does not lose the chance to be educated, ministries and education departments on the continent must actively search for and target girls who have dropped out of school. They must ensure that these girls return to school and remain there until they graduate.
It was reported that, during the first month of the pandemic, there was an 80.1% loss of income for individuals working in the informal sector. Due to these losses, women who are breadwinners in their families have not been able to provide essential needs such as water, food, electricity, and healthcare for their children. Lack of access to adequate food predisposes young children to malnutrition, which leads to poor growth, and so any interventions made to curb the economic effects of COVID must be women-friendly. These policies must address the specific needs of women and should encompass measures that are targeted towards the improvement of women's conditions.
In the health sector, millions of women and girls do not have access to reproductive, maternal, or child health services due to lockdowns, lack of income, and lack of transport to access healthcare services. This predisposes women to ill-health, lack of antenatal and postnatal care services, and unintended pregnancies. Several organizations such UN Women, UNICEF, and the World Bank are committed to ensuring that women and girls' empowerment becomes a priority. The World Bank developed the human capital project plan which is targeted at boosting Sub- Saharan Africa's potential through its human capital. During the discussion, Mari Pangestu from the World Bank Group stated that they are committed to ensuring that the 4 Es are actualised:
Improving access to education
Supporting employment and productivity
Enhancing access to health services
Creating an enabling environment for women's empowerment
To be successful in ensuring that women recuperate from the effects of the pandemic and enter the post-pandemic stage even better than before, investing in women and girls must be regarded as important, beneficial, and a necessary task. Policy makers and stakeholders need to understand the disproportionate impact of the pandemic on women and girls, because it is only when the empowerment and well-being of women is deemed important, that we will begin to make notable strides towards women and girls' empowerment.
1 Lane, R. (2019). Sarah Hawkes: shining a global lens on global health. The Lancet. https://doi.org/10.1016/S0140-6736(19)31190-0
2 WHO, "Top 10 Issues for Women's Health" Retrieved from https://www.who.int/news-room/commentaries/detail/ten-top-issues-for-women's-health
3 WHO, "Cervical Cancer" retrieved from https://www.who.int/health-topics/cervical-cancer#tab=tab_1
4 WHO, "Top 10 Issues for Women's Health" Retrieved from https://www.who.int/news-room/commentaries/detail/ten-top-issues-for-women's-health
5 Institute of Medicine. (2011). The Health of Lesbian, Gay, Bisexual, and Transgender People: Building a Foundation for Better Understanding. Washington, DC: The National Academies Press.
6 Dobinson, C. (2007) Top ten bisexual health issues. As cited in Miller, M., André, A., Ebin, J., and Bessonova, L. (2007). Bisexual health: An introduction and model practices for HIV/STI prevention programming. New York: National Gay and Lesbian Task Force Policy Institute, the Fenway Institute at Fenway Community Health, and BiNet USA
7 Institute of Medicine, (2011) "The Health of Lesbian, Gay, Bisexual, and Transgender People Building a Foundation for Better Understanding" Retrieved from https://www.nap.edu/resource/13128/LGBT-Health-2011-Report-Brief.pdf